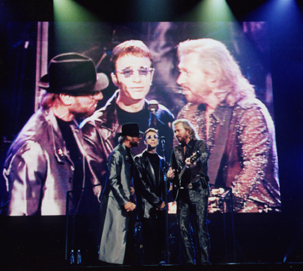 As the lights dimmed we treated to a slide show of the Brothers Gibb lives from childhood to today.. They opened the show with a teaser of " You should be dancing" going into one of their current hits "Alone" the crowd to their feet.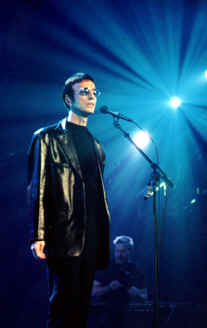 After talking briefly with the almost sold out crowd, they quickly took us on a journey covering all the heartbreaking tunes of the past, like Massachussetts, I started a joke to name a few. And who cannot help but think of the 70's disco scene when you hear Night Fever and Tragedy and not want to dance ? When they performed their tribute to their brother Andy ; don't throw it all away" images of Andy were flashed up on the screen , there was hardly a dry eye in the venue. The Beegees entertained us for nearly an hour and forty five minutes. They left the stage at two minutes before midnight and we were taken to Times Square via Satellite link for the countdown to the new millinium. The house lights were turned on and as the clock struck midnight, ballons and confetti fell dropped from the ceiling of the venue. The Beegees returned to the stage for an 11 minute version of you should be dancing and
Finally the night was over but you would never have guessed it as while you walked out to your car to go home people were still singing, humming and dancing. It was an incredible event to be a part of, and one my spouse and I will never forget…. By the way the world didn't end as predicted
---
Please sign our Guestbook and offer your comments and questions
The ticket stated 12/31/99 BG2K, it was the last day of the century with a concert worthy of that distinction. As I watched the limos and other vehicles The parking lot was slowly filling up. I thought to myself " I can't think of a better way to spend Y2K than with 14,000 of my closest friends. Bringing in the new year with the BeeGees was an incredible experience, it seemed appropriate as they have been entertaining us with their unique style for the past 4 decades, their music is ageless.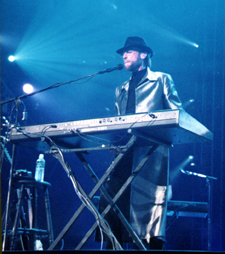 Barry and Robin were dressed in shiny black jackets while Maurice was wearing a grey duster with his trademark hat.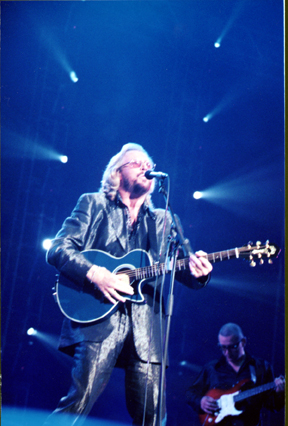 ---
All these people, and you, have been by to read about The Bee Gees
---
Click here for the Table of Contents or here to turn to the next page---->